DANGEROUS SUBSTANCES TRANSPORTING VIA ADR TRANSPORT?
We are specialized in this and meet all the requirements according to the European agreement ADR. "Accord européen relative au transport international de marchandises Dangereuses par Route".
Van Tiel Transport has experienced and well-trained drivers with the necessary training to transport your dangerous goods safely. Our ADR drivers are available for all different classes from the general ADR agreement.
Specialist in the field of dangerous goods
Years of experience in the international transportation of hazardous general cargo and liquids.
Certified Drivers for ADR Transport
For all the safe transportation of your hazardous materials and goods.
Certified for ISO and SQAS
We highly value our quality system and strive to continuously improve it.
DIFFERENT CLASSES IN THE ADR CONVENTION
Class 1: Explosive substances and articles
Class 2: Gases
Class 3: Flammable liquids
Class 4.1: Flammable solids, self-reactive substances and
solid explosive substances in non-explosive state
Class 4.2: Substances liable to spontaneous combustion (pyrophoric)
Class 4.3 Substances which, in contact with water, emit flammable gases
gases in contact with water
Class 5.1: Oxidizing substances
Class 5.2: Organic peroxides
Class 6.1: Toxic substances
Class 6.2: Infectious (contagious) substances
Class 7: Radioactive material
Class 8: Corrosive (caustic) substances
Class 9: Miscellaneous dangerous substances and objects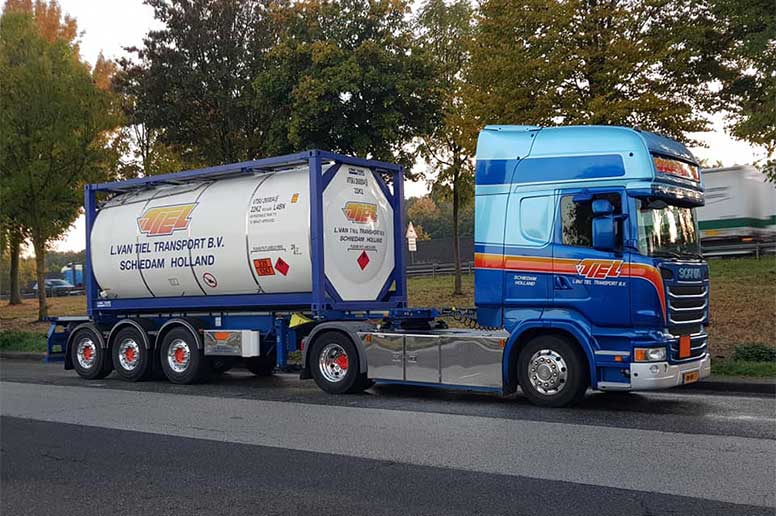 Looking for an experienced transporter for your dangerous goods?
Meet our professionals.
FAQ – MOST FREQUENTLY ASKED QUESTIONS ABOUT ADR TRANSPORT
ADR is the pan-European convention/agreement for the international carriage of hazardous materials and goods by road.
The meaning of ADR, and what ADR stands for: The abbreviation refers to the "Accord relatif au transport international de marchandises Dangereuses par Route."
The most frequently transported ADR goods are flammable liquids of class 3. Here are the top 3: